News
VINCI Facilities' technicians make service calls by electric cargo bike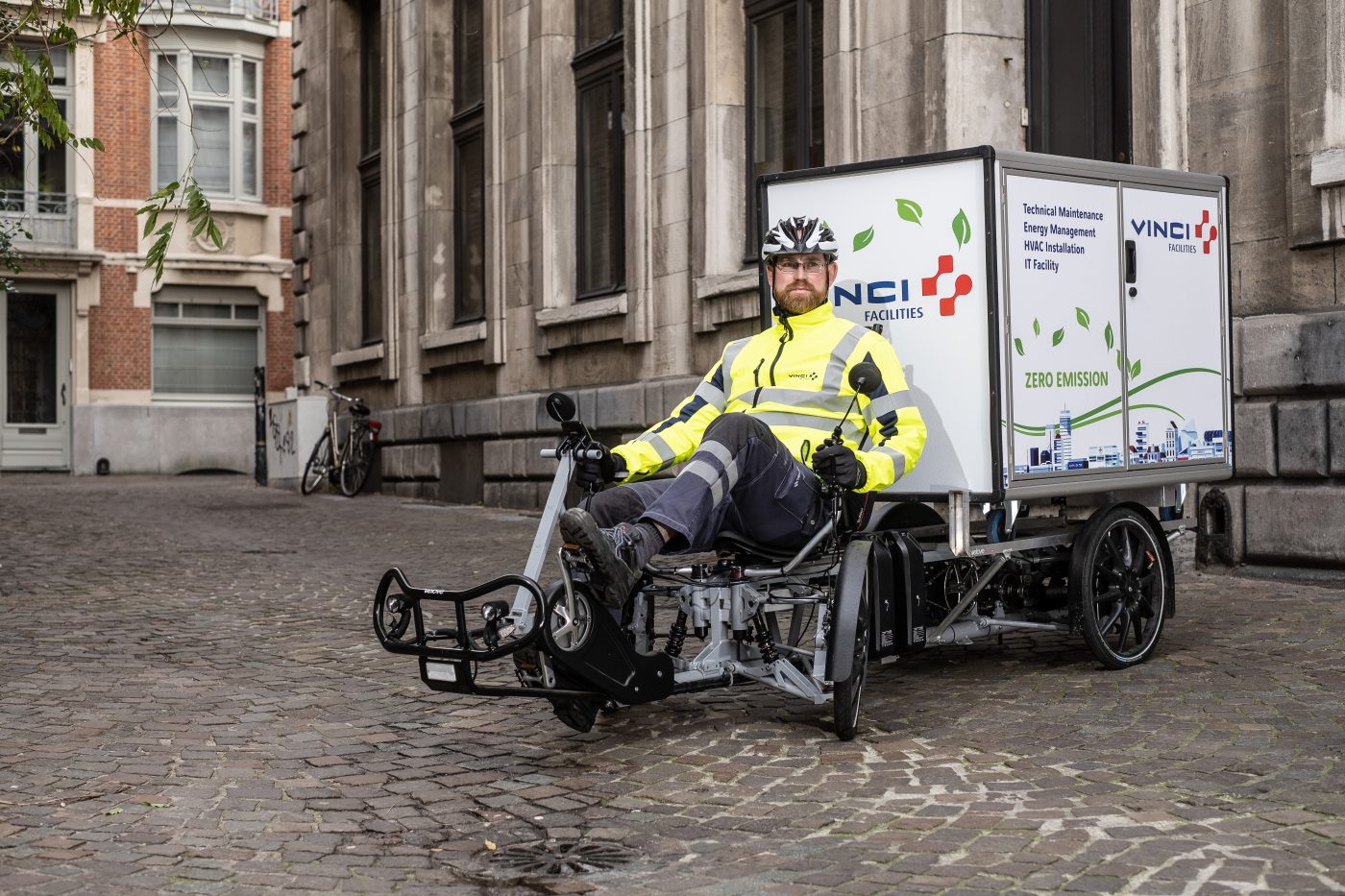 The technicians of VINCI Facilities, the brand of VINCI Energies that focuses on Facility Management and Technical Maintenance in buildings, will make their service calls on electric cargo bikes from now on. The first bike has just been taken into commission in and around Antwerp. This environmentally friendly mode of transport as an alternative or complement to the conventional van is the solution to a plethora of mobility and parking problems. The initiative stems from one of the employees and reflects VINCI Energies' commitment to green growth and development.    
VINCI Facilities is a leading player in the Facility Management and Technical Maintenance market. It is part of VINCI Energies, a VINCI subsidiary specialising in energy, information and communication technologies. One of the core tasks of VINCI Facilities is to make on-site service calls. In recent years it has become increasingly difficult to do this efficiently in busy urban environments. Because of the many traffic hubs and car-free zones in the city, the technicians sometimes spend more time in their cars than effectively in the work field. Parking facilities are becoming scarce and due to the low emission zones (LEZ) many types of vans are no longer allowed into the city. That is why the staff of VINCI Facilities now gets around by electric cargo bike.  
Various advantages
The type of cargo bike that will soon be seen in the streets is an electrically powered cargo bike on which the rider sits at the front. It has a large cargo space at the back with room for equipment such as toolboxes. This mode of transport offers the technicians numerous advantages. First of all, they can ride on the cycle path where there are no traffic jams, thus saving a great deal of time. Secondly, there is no longer any need to look for a parking space. Lastly, a bicycle does not emit exhaust fumes and using it is also beneficial to your health.  
Completely hooked 
The idea came from one of VINCI Facilities' own technicians. Luc works as an electrician, lives in Berchem and often has to go into town to meet clients. He was the first to use the bike for a week and was sold immediately. 'The service calls I made on my cargo bike went surprisingly smoothly and in the city centre I can move about much faster than in any car. In a city the slightest incident will result in traffic jams that can last hours. I only take a van for really big jobs now; I'm completely hooked on my new cargo bike!'  
It was Ward Beniest, Business Unit Manager of VINCI Facilities, who went in search of a mobility solution together with Luc. He is absolutely convinced of the advantages offered by this mode of transport: 'Our clients are very happy with the faster service and it is also a positive development for the city residents, as fewer cars will be driving around here. Moreover, it helps VINCI Facilities reduce its carbon footprint. It's a win-win situation.'  
Green growth
Using electric cargo bikes fits in perfectly with VINCI Energies' other initiatives. 'One of the driving factors behind the company is a commitment to green growth and development,' explains Ward Beniest. 'In recent years many of our employees started leaving their cars at home, for example, and bought bikes instead. We even had to expand the bike shed to twice its size to meet the exponential growth in bicycles. In the future, we will continue to follow the course we have charted out and invite all technicians who are enthusiastic about this development to join one of our green and sportive teams.'