News
Your office during and after Covid-19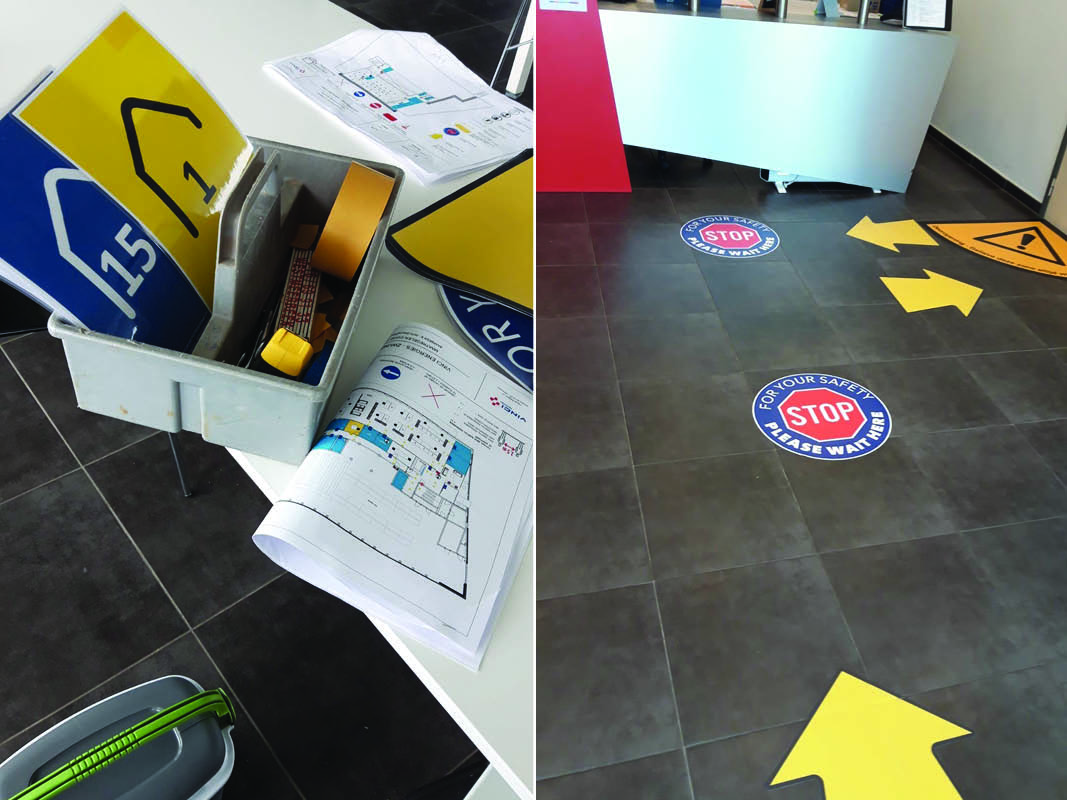 In the current situation, many questions arise from both employers and employees about their safety in the office. It is already clear that the measures we are taking will not be short-lived and probably not just once. VINCI Facilities can help you answer these questions.
SHORT-TERM
How can we safely return to the workplace?
From many angels you are currently seeing documents popping up with advice on how to organize our offices after the corona lockdown. We at VINCI Facilities are also fully engaged in this exercise for our own buildings of the VINCI Energies group and our customers. And our buildings are just as diverse as our activities. This teaches us that these interventions are also tailor-made.
In one office plexi screens are the solution, in the other meeting rooms can be used as extra workplaces and in a third we can skim the workplaces and place them further apart.
Of course there are also many similarities. Such as the use of disinfectant gels, good circulation and good ventilation. From this experience we have developed the following step-by-step plan to help you return your people to the workplace safely in the short term.
STEP-BY-STEP TRANSITION
A site survey by one of our experienced people.Schedule a safe circulation and layout within your building, possibly with adapted space planning.
Determination of the maximum number of people in your building and per room.
Plan drawing of the protective equipment to be placed, advice and signage.
If desired, we can also deliver and place these materials at your location.
We also provide you with a document tailored to your company and building with guidelines for safe behavior, advice for adapting your facility services such as cleaning, etc. in the work environment. It also contains some nice tips that can make this period more pleasant.*
*Suggestion in these beautiful spring days: Buy some nice garden benches and let the meetings take place outside in dry weather.
LONG-TERM
What will our office look like in the future?
We have also learned a lot from this pandemic and the associated lockdown. For example, teleworking turns out to be quite smooth and we suddenly have much less trouble with letting go and trusting our employees. There is a different way of working, but also in leadership. After all, we see that our home offices are ideal for carrying out concentration and file work.
Remote meetings seem to be a lot more efficient and to the point and we all save a lot of time. Our traffic jam problem solved itself and our planet breathes again. On the other hand, we miss our colleagues, the social contact and the team feeling. We need each other for inspiration and perspective.
Our offices are evolving towards a meeting place, a co-working space, rather than our traditionally known office … Fewer individual offices, less standard offices in open space. But more brainstorming areas, informal consultation options, scrum areas, social areas and so on.
If you keep the option of one or more days working from home for your staff, you can use your square meters more efficiently. Your employees become more productive and receive a better work-life balance in exchange. And you as an employer do not need more surface area for this. You may even be able to reduce it.
Again, this should be tailored to your company, with your specific activity and profiles. At VINCI Facilities we always start from a thorough analysis of your current way of working, your vision of the future and the expectations you have of the redesign and mental change.
Contact us for an open conversation in which our Interior Architects explain our complete working method and are happy to show you our recent references.
*3D simulation of a multifunctional room. This can be used for presentations, informal meetings, lunch, social events, etc.